---
Listing Description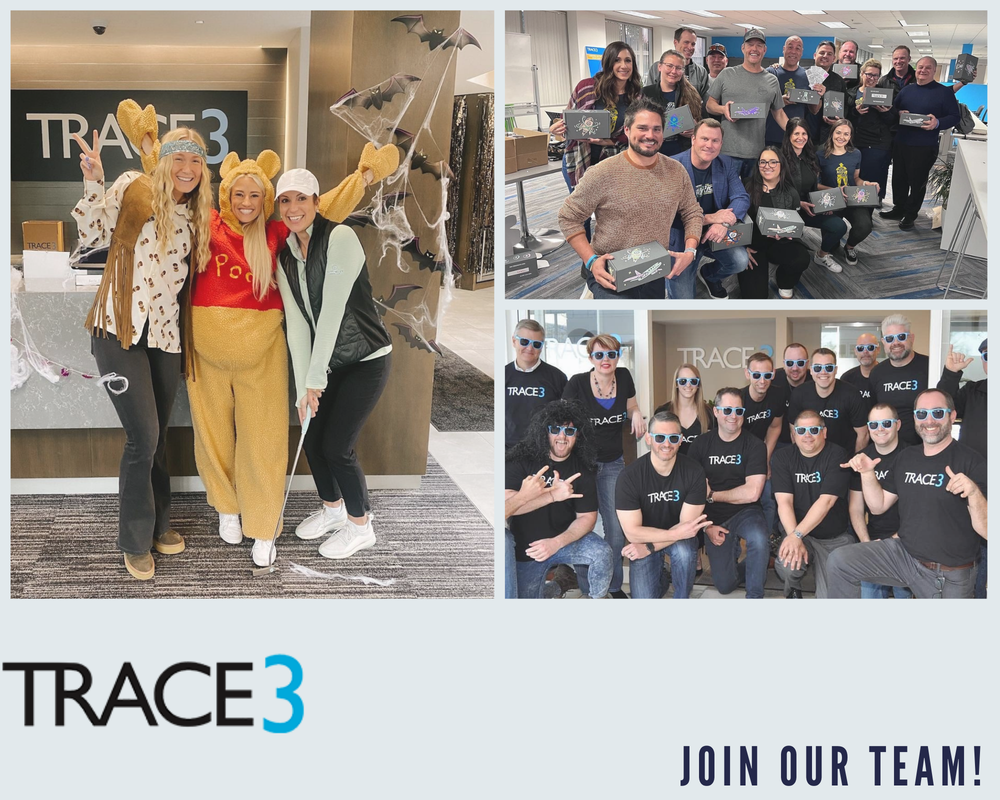 Who is Trace3?
Trace3 is a leading Transformative IT Authority, providing unique technology solutions and consulting services to our clients. Equipped with elite engineering and dynamic innovation, we empower IT executives and their organizations to achieve competitive advantage through a process of Integrate, Automate, Innovate.
Our culture at Trace3 embodies the spirit of a startup with the advantage of a scalable business. Employees can grow their career and have fun while doing it!
Trace3 is headquartered in Irvine, California. We employ more than 1000 people all over the United States. Our major field office locations include Atlanta, Denver, Detroit, Indianapolis, Grand Rapids, Lexington, Los Angeles, Louisville, San Diego, San Francisco, and Scottsdale.
Ready to discover the possibilities that live in technology?
Come Join Us!
Street-Smart - Thriving in Dynamic Times
We are flexible and resilient in a fast-changing environment. We continuously innovate and drive constructive change while keeping a focus on the "big picture." We exercise sound business judgment in making high-quality decisions in a timely and cost-effective manner. We are highly creative and can dig deep within ourselves to find positive solutions to different problems.
Juice - The "Stuff" it takes to be a Needle Mover
We get things done and drive results. We lead without a title, empowering others through a can-do attitude. We look forward to the goal, mentally mapping out every checkpoint on the pathway to success, and visualizing what the final destination looks and feels like.
Teamwork - Humble, Hungry and Smart
We are humble individuals who understand how our job impacts the company's mission. We treat others with respect, admit mistakes, give credit where it's due and demonstrate transparency. We "bring the weather" by exhibiting positive leadership and solution-focused thinking. We hug people in their trials, struggles, and failures – not just their success. We appreciate the individuality of the people around us.
About the Role:
Trace3's Cloud Solutions Group helps customers securely design, build, and operate applications using elastic infrastructure. Our team is comprised of architects and engineers who assist our customers on their digital transformation journey. We get to solve complex problems that our customers are often facing for the first time.
The AWS Sr Cloud Architect will be responsible for the successful implementation of AWS architectures and environments. The AWS Sr Cloud Architect will act as an expert and trusted advisor who provides guidance for transforming legacy implementations to the cloud. This role will work closely with clients, partners and other business units to ensure consulting engagements are successful.
What You'll Do:


Responsible for design, development, and hands-on implementation of Amazon Web Services cloud solutions


Serve as an AWS technical resource in team's efforts to determine the needs of our client's businesses that will simplify and automate the applications as well as make them more efficient


Participate in planning, implementation, and growth of our customer's AWS foundational footprint


Work closely with other Trace3 architects and engineers to recommend and design infrastructure, database, or data storage solutions that effectively reflect our client's business needs, security, and service level requirements


Work with application and infrastructure teams to conduct proof of concepts (POCs) and implement Production-ready designs in Amazon Web Services


Align solutions with standards and best practices working with cross-functional engineering and consulting teams


Perform risk analysis & create mitigation strategies for continuous evaluation and validation or system design and architecture


Ability to produce as-built documentation and materials


Ability to design, build, and execute automation frameworks for deployment of AWS Cloud Environments (based on CloudFormation templates, Terraform, AWSCLI, others)


Support pre-sales activities when needed


Collaborate and communicate with Sales and Account Management team to ensure smooth and successful delivery and assist with the identification of additional Advanced Services and Sales opportunities within the customer's environment


Establish strong and lasting relationships with key stakeholders and decision makers in client organizations


Contribute to the development of internal best practices as well as new innovative consulting services offerings that we can take to market


Build a community and following around our company solutions and brand awareness


Qualifications & Interests:


Bachelor's degree from an accredited university required or evquivalent work experience


5+ years of experience with implementation and support of infrastructure services on AWS, AWS DevIo Experience (CodeBuild, CodePipeline, CodeCommit, CodeDeploy, AWS Config, AWS Systems Manager, CloudWatch, Lambda experience) (additional DevOps experience like Jenkins and Azure DevOps is good, but not required)


3 years of experience with current operating system administration (Examples: Windows, Linux, Ubuntu and CentOS)


2 years of experience with APIs, performing commands through CLI to perform implementations and third-party integrations


2 years of experience with cloud network connectivity and ExpressRoute, and ability to troubleshoot cloud connectivity issues


Previous experience working for a consulting or services organization strongly preferred


AWS Certified Solution Architect and/or DevOps Engineer


AWS Cloud Platform Experience


Strong scripting skills in languages such as Python, Ruby, or GoLang- specifically including experience creating and consuming RESTful APIs as well as AWS Lambda


Automation experience with CloudFormation, (Terraform, Jenkins, Git, others are a plus)


Experience deploying ControlTower with GuardRails in production


Kubernetes (Vanilla or EKS/ECS) and OpenShift 4.x experience in production (containerization and ops)


Knowledge of IAM integration with AWS environments


Experience aiding with operationalizing AWS cloud environments using AWS native and third-party tools for monitoring and management


Ability to mix deep technical expertise with simple, everyday language to deliver a story that is memorable, educational and useful


Highly organized, detail-oriented, excellent time management skills and able to effectively prioritize tasks in a fast-paced, high-volume, and evolving work environment


Ability to approach customer and sales requests with a proactive and consultative manner; listen and understand user requests and needs and effectively deliver


Comfortable managing multiple and changing priorities, and meeting deadlines in an entrepreneurial environment


Motivated self-starter who loves to troubleshoot and solve challenging problems and feels comfortable working directly with customers


The Perks:


Comprehensive medical, dental and vision plans for you and your dependents


401(k) Retirement Plan with Employer Match, 529 College Savings Plan, Health Savings Account, Life Insurance, and Long-Term Disability


Competitive Compensation


Training and development programs


Stocked kitchen with snacks and beverages


Collaborative and cool office culture


Work-life balance and generous paid time off


***To all recruitment agencies: Trace3 does not accept unsolicited agency resumes/CVs. Please do not forward resumes/CVs to our careers email addresses, Trace3 employees or any other company location. Trace3 is not responsible for any fees related to unsolicited resumes/CVs.
---
Listing Details
Citizenship:

Not Provided

Incentives:

Not Provided
Education:

Not Provided

Travel:

Not Provided

Telework:

Not Provided